Media Mobilizing Project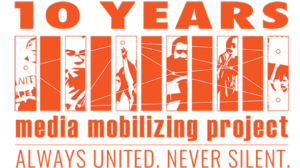 Founded by Todd Wolfson, Media Mobilizing Project (MMP) is based in Philadelphia and is an award winning social justice group that uses media to build the power of working people.
MMP exists to build a media, education and organizing infrastructure that will cohere and amplify the growing movement to end poverty. We use media to organize poor and working people to tell our stories to each other and the world, disrupting the stereotypes and structures that keep our communities divided.